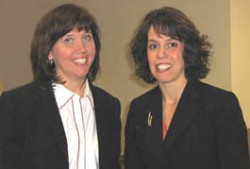 Karin Derry and Kim Bartosh
The Drake Law School team of Kim Bartosh and Karin Derry recently won the regional American Bar Association Client Counseling Competition at William Mitchell Law School in St. Paul, Minn.
Bartosh and Derry, both second-year law students, defeated teams from the University of Iowa Law School and William Mitchell in the final round of the competition, which drew 12 teams from seven Midwest law schools.
At both the regional and national final rounds of this competition, students conduct an initial client interview session with a potential new client.
The interview session requires the team to demonstrate their interviewing and counseling skills (by eliciting the client's problem), as well as their problem-solving abilities (by recommending a tentative course of action for the client).
Judging panels (including both lawyers and lay counselors) evaluate each team's performance and compare that performance to that of other teams that interviewed the same client. The teams with the best record after three interview sessions go on to compete in playoff interview rounds, from which an ultimate winner is selected.