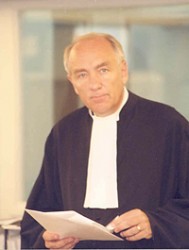 Stephen Rapp, LW'74
Stephen Rapp, a former U.S. attorney in Iowa and a 1974 Drake Law School alumnus, is pursuing and prosecuting suspects in the 1994 Rwandan genocide that left 800,000 dead.
Rapp will discuss his experiences and the state of international law in a lecture titled "International Criminal Justice: The Case of the Rwanda Genocide." The speech is set for 3 p.m., Thursday, April 6, in room 213 of Cartwright Hall, 2621 Carpenter Ave. The event is free and open to the public.
An average of 8,000 people were killed a day during the Rwandan uprising in 1994, when members of Rwanda's majority ethnic group, the Hutu, began a systematic campaign to wipe out the minority. Hundreds of thousands were slain with machetes, shot, raped and burned alive. Millions of people fled the country.
As chief of prosecutions for the head of the United Nations' International War Crimes Tribunal of Rwanda, Rapp is coordinating at least 40 more trials, assisting in international efforts to find suspects hiding abroad, and teaching what he's learned practicing a largely uncharted area of international law over the last four years.
In 2003, Rapp successfully prosecuted media executives who helped incite the Rwanda's extremist militia as well as broadcast the whereabouts of Tutsi sympathizers – a conviction that scholars say sets important precedent for future cases before the International War Crimes Tribunal at the Hague in the Netherlands.
Under United Nations guidelines, Rapp and his fellow prosecutors have until 2008 to prosecute more than 100 additional suspects believed to be responsible for the Rwandan murders.
The work involves highly complicated multi-language, multi-defendant legal procedures in the international court system all while dealing with scores of witness unwilling to testify.