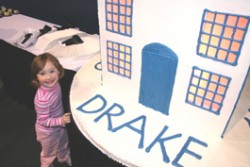 Drake faculty and staff partied hardy in celebration of the University's 125th birthday in a special event set at the Science Center of Iowa, 401 W. Martin Luther King Jr. Parkway, last month.

The private event for Drake faculty, staff and immediate families included exclusive access to the Science Center. Drake hosted two showings of "Magnificent Desolation: Walking on the Moon" in the Imax Dome Theater.

Science Center staff members were on duty to operate the planetarium, perform live demonstrations and experiments and give tours. Faculty and staff members also assembled a Drake time capsule.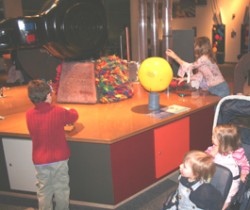 A total of 850 members of the Drake Community explored the Science Center of Iowa Saturday during Drake's 125th birthday party, which featured a cake shaped like Old Main along with hands-on science activities and three showings of "Magnificent Desola