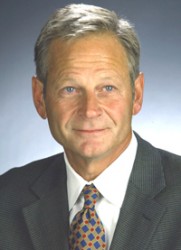 Richard J. Hartig, PH'73, GR'81
The recipient of this year's Lawrence C. and Delores M. Weaver Medal of Honor is Richard J. Hartig, PH'73, GR'81.

Hartig will deliever the Weaver lecture at 1 p.m., Wednesday, April 26, in Sheslow Auditorium, Old Main. A reception will follow from 4 to 6 p.m. at the Galleries at Hoyt Sherman Place, 1501 Woodland Ave. in Des Moines.

The deadline for registration is Wednesday, April 19. Contact Melisa Cox at (515) 271-2769 or melisa.cox@drake.edu for registration or more information.

As the third generation to lead Hartig Drug Stores, Richard Hartig champions the importance of community pharmacy. His company is America's second oldest continuously operated family drug chain, caring for customers in three states for more than 100 years through traditional drug stores, a long-term care pharmacy, Finley-Hartig Homecare and hospital partnerships – all from his hometown of Dubuque, Iowa.

Hartig's success is attributed to his willingness to volunteer and his desire to be an advocate for patients. Active on numerous civic and policy boards, he also chairs the National Advisory Board for Drake University's College of Pharmacy and Health Sciences and is a member of Drake's Presidents Circle Board.

In 2002, Hartig, along with Brenda, his wife, endowed the Hartig Pharmacy Fund for Drake's College of Pharmacy and Health Sciences with a gift of $500,000. The fund supports a distinguished professor award, faculty development and student scholarships.

The Weaver Medal of Honor is made possible through the generous gifts of the Weaver family.