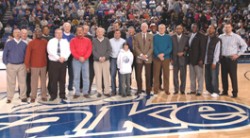 Members of the Drake men's basketball all-century team gather at center court at halftime of a recent game.
Five all-Americans headlined the all-time Drake men's basketball team announced last week at banquet commemorating 100 years of basketball at the school.

Here's a capsule on each all-time team honoree:

Ted Payseur (1918-22), Forward
The first Drake basketball star, Payseur brought the Bulldogs out of the Missouri Valley Conference cellar for the first time with the team posting a 36-25 record in three years after winning only 33 of 154 previous games in history.

Bill Boelter (1921-24), Forward
Boelter was the second Bulldog to ever earn a spot on the first-team All-MVC basketball team. A three-sport star at Drake, Boelter finished second in scoring one season from a guard position. He later coached Drake's basketball team for seven seasons from 1925-32 and was also an assistant football coach for all of those years under Ossie Solem.

Chuck Everett (1923-27), Forward
Everett was one of the most decorated players in Drake history, winning 10 letters in basketball, football and tennis. He was twice a first-team all-state selection in his four-year career at Drake.

Chuck Orebaugh (1933-37), Guard
The Des Moines native was the first three-time All-Missouri Valley Conference performer and was Drake's first All-American in basketball as selected by the Helms Athletic Foundation.

Bill Evans (1942-43, '46-49) Forward
The 6-foot 3-inch forward played before keeping rebounding statistics was fashionable, but he is one of the best rebounders to play for the Bulldogs.

Walt O'Connor (1938-41) Guard
O'Connor led the Missouri Valley Conference in scoring (10.8 avg.) as a senior while earning first-team All-American honors by the Helms Athletic Foundation.

Gus Ollrich (1946-48, 1951-54) Guard
Ollirch graduated from Drake ranked third on the school career scoring list with 932 points and owned the school single-season free throw percentage mark at .836 set in 1952-53.

Red Murrell (1955-58) Forward
He is the all-time career-scoring leader in Drake history with 1,657 points. He was a two-time first-team All-Missouri Valley Conference player and was selected third team All-American by the Helms Foundation as a senior.

Gus Guydon (1958-61) Guard
Guydon was a two-time first-team All-MVC selection as well as Bulldog co-captain. He led the Bulldogs in scoring as a junior and senior with an 18.5 scoring average.

Gene West (1962-65) Guard
He was instrumental in leading Drake to its first ever post-season tournament – a trip to Madison Square Garden in New York and the prestigious National Invitation Tournament in 1964.

Willie Wise (1967-69) Forward
With his 6-foot 5-inch frame, the forward shot 52 percent from the floor and grabbed a then school single-season record 343 rebounds in 1968-69 for a 11.4 rebounding average.

Willie McCarter (1966-69) Guard
He was the leading scorer with a 20.4 average on the 1968-69 Drake team, which went 25-5, finishing third in the 1969 NCAA Final Four behind UCLA.

Dolph Pulliam (1966-69) Forward
The vocal leader on the 1968-69 NCAA Final Four team, he left Drake ranked No. 11 on the career scoring list and No. 9 on the career rebounding charts.

Jeff Halliburton (1969-71) Forward
The two-time first-team All-Missouri Valley Conference selection led the Bulldogs to the championship game of the 1970 NCAA Midwest Regional as well as the 1971 NCAA Midwest Regional.

Wayne Kreklow (1975-79) Guard
He played in 109 straight games and finished his career as the No. 3 all-time scorer at Drake with 1,471 points.

Ken Harris (1973-77) Forward
He ranks 6th on the school career rebounding (702) and 8th in career scoring (1,310) charts. He averaged 19.5 points as a senior.

Lewis Lloyd (1979-81) Forward
He holds the Drake single-season scoring record with a 30.2 average, while finishing second in the nation in scoring as a junior. He also ranked second in the country in rebounding with a 15.0 average.

Melvin Mathis (1982-86) Forward
He is Drake's all-time rebounding leader (854) and ranks second in career scoring (1,651).

Sam Roark (1986-90) Forward
He had 28 points and 22 rebounds at Southern Illinois and is the only player in Drake history to record a triple-double by collecting 21 points, 10 rebounds and a career-high 11 assists against Iowa State.

Lynnrick Rogers (1993-97) Guard
A three-time All-MVC guard, he is the only player in Drake history to score more than 1,500 points and collect 180 steals.