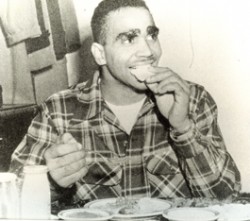 The late Johnny Bright, ED'52, shown here eating a hearty breakfast in 1951, is widely considered the greatest athlete to ever attend Drake. The new field at Drake Stadium will be named in his honor this fall.
The Drake University Board of Trustees has approved a proposal from the University administration to name the new playing field in the revitalized Drake Stadium Johnny Bright Field in memory of one of the finest all-around athletes to play not only at Drake but also in the country.

Bright brought power and glitz to the Bulldog football backfield in the late 1940s and early '50s. He ran with strength and grace and threw passes with speed and accuracy. His sophomore year (1949) saw him win the national collegiate total offense crown in 1949. He set the best single season total offense mark in the nation in 1950 with 2,400 yards.

Sadly, a cruel play in Stillwater, Okla., robbed Bright of a certain Heisman Trophy in 1951. Bright was the first African-American football player to play in Stillwater and Oklahoma A&M College (now Oklahoma State University) did not take kindly to his dominance. On an early Drake offensive play in the game, an Oklahoma A&M lineman charged Bright – who did not have the ball – and hit him in the face, breaking Bright's jaw and ending his collegiate football career.

In approving the name of the playing field, the Board of Trustees affirmed that "Johnny Bright was an immensely gifted athlete who gave his heart, and his body, to Drake University. As an alumnus of Drake, he went on to a distinguished career as a football player in Canada, and — perhaps more important — as a gifted and highly successful teacher and school administrator who had a positive impact on the lives of thousands of young people."

Last fall an alumnus asked Drake President David Maxwell whether the University had ever received a formal apology from Oklahoma State. He looked into the matter and found the answer was no. "This was still an open issue," President Maxwell said. "I felt that in honor of Johnny's legacy as a member of the Drake University family that we needed to bring closure to the event."

President Maxwell called Oklahoma State President David J. Schmidly to discuss the matter last fall, and asked President Schmidly to provide a formal apology on behalf of his university.

Schmidly followed up the conversation with a letter that said he was "pleased we could thoughtfully discuss the 1951 Johnny Bright incident." Schmidly added that "The incident was an ugly mark on Oklahoma State University and college football and we regret the harm it caused Johnny Bright, your university and many others."

President Maxwell responded in a letter to Schmidly that said, "I want to express my profound thanks for your thoughtfulness and sensitivity regarding the Johnny Bright incident of 1951, and for sharing our desire to bring the issue to formal closure. . . the nobility of spirit embodied in your subsequent letter speaks volumes about you, and about Oklahoma State University in the 21st century."

Drake plans to formally dedicate Johnny Bright Field during the Homecoming game against Morehead State on Sept. 30. Members of the Bright family are expected to attend the dedication. The new Drake scoreboard, which is part of the $15 million renovation of Drake Stadium, will feature the name "Johnny Bright Field" at this year's Drake Relays.

Bright, who earned a bachelor's degree in education from Drake in 1952, went on to a successful career in the Canadian Football League and later won accolades for his work as a junior high school principal and his service to youth. He died of a heart attack in 1983 at the age of 53.

To view the Pulitzer Prize-winning photos, listen to accounts of the Drake-Oklahoma A&M game and learn more about Bright, visit the Drake Heritage Collection at http://www.lib.drake.edu/heritage/bright/story/index.php.