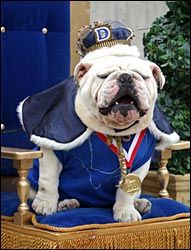 Beautiful Bulldog
CONTACT: Dolph Pulliam, (515) 271-3084, dolph.pulliam@drake.edu,
Daniel P. Finney, (515) 271-2833, daniel.finney@drake.edu
In this beauty contest, drool is cool.
Drake University is seeking the hairiest, most wrinkled and slobbering of beauty contestants for the 27th annual Beautiful Bulldog Contest.
The canine showdown will kick off Drake Relays Festival Week on Monday, April 24, at Nollen Plaza in downtown Des Moines. The first 50 bulldogs to register will vie for the honor of being Drake's mascot for the 97th running of the Drake Relays April 27-29.
A panel will judge contestants beginning at 11 a.m. with the pageant scheduled for noon. Mercifully, there will be no swimsuit competition or singing. In the event of rain or bad weather, the event will move to the Drake Fieldhouse, 2701 Forest Ave.
The winning Bulldog will serve as the official mascot for the Drake Relays and appear in the Drake Relays Parade. On Saturday of the Relays the Beautiful Bulldog will officially preside over the Relays and will be introduced during the races.
"This year's Beautiful Bulldog Contest is especially important as we celebrate the 125th
Anniversary of Drake University and the grand revitalization of Drake Stadium," said Dolph Pulliam, director of community outreach and development at Drake. "It's the only event of its kind that receives media attention worldwide and this year's event promises to be very special."
Entries will be accepted in the order they are received. To receive a Beautiful Bulldog Contest entry form entrants can download the registration form by going to https://wwww.drakerelays.org/. Follow the link to the Beautiful Bulldog Contest. You can also call Nancy Strutzenberg at (515) 271-4539 and request a registration form to be mailed to you. The Beautiful Bulldog hotline (515) 271-2888 is available to answer your questions as well.
All entries must be submitted by April 17.