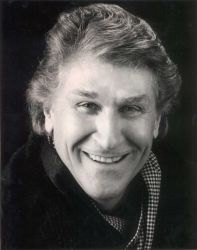 Sherrill Milnes
CONTACT: Lisa Lacher, (515) 271-3119, lisa.lacher@drake.edu
Drake University alumnus Sherrill Milnes, who has enjoyed an international career as an opera singer, concert soloist and recitalist, will share his wisdom, passion and experiences in a special appearance at Drake at 8 p.m. Thursday, March 30, on the Jordan Stage in Sheslow Auditorium in Old Main, 2507 University Ave. A reception will follow in Levitt Hall.
Tickets are $20 per person, although students will be admitted free with a Drake ID. Tickets may be purchased at the door or through the Drake Fine Arts Box Office at (515) 271-3841. Proceeds will support Drake's Music Department.
Milnes, a baritone who has retired from singing, also will conduct a master class for Drake voice students from 4:30 to 6:30 p.m. March 30 in Sheslow Auditorium. This event is free and open to the public.
Milnes, who has more than 70 recordings on major labels, has worked extensively with young singers, leading master classes at the Juilliard and Manhattan Schools in New York, at major universities throughout the country and at the Mozarteum in Salzburg, Austria. He teaches at Northwestern University, where he is the John Evans professor of music and voice.
He is the author of "American Aria: From Farm Boy to Opera Star," which begins with his childhood on a dairy farm outside Chicago and his first performances as a choir boy in his mother's church. He went on to earn a bachelor's degree in music from Drake in 1957 and a master's degree from Drake in 1958, then pursued graduate studies at Northwestern University.
In 1965 Milnes joined the Metropolitan Opera, where he has been honored with 16 new productions, seven opening nights and 10 national telecasts. He also has performed at all of the great opera capitals of the world: the Royal Opera, Covent Garden; La Scala, Milan; Berlin's Deutsche Oper; the Paris Opera; Buenos Aires' Teatro Colon; the Liceu in Barcelona; the Bavarian State Opera in Munich; the Salzburg Festival; the Hamburg Opera; Moscow's Bolshoi Theatre and many others. He also has appeared with the San Francisco Opera; Lyric Opera of Chicago and the opera companies of Pittsburgh, San Diego, Miami and Denver, among others in the United States.