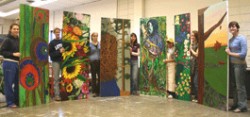 These colorful doors painted by Drake students will brighten the insides of homes.
Thirteen students in Angela Battle's upper-level painting courses have touched up some doors in an interesting way.
Habitat for Humanity supplied the students with 10 interior doors and the students as individuals and in groups used the doors as canvases to express the themes of home, family or environment.
The "art doors" will be displayed and auctioned at the 2006 Home and Garden Show at the Iowa Events Center, Feb. 15-19.
Proceeds will go to Habitat for Humanity.