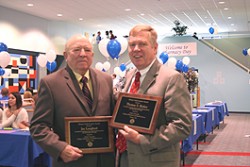 Pharmacy Alumni Achievement winners Jay Langford, P'44, and Tom Rickey, P'68, show off their awards at Pharmacy Day.
Drake pharmacy students spent Feb. 7 in a series of lectures, discussions and professional development activities as part of the College of Pharmacy and Health Science's annual Pharmacy Day.

The theme of this year's event was "Pills and Bills on Capitol Hill," looking at issues from the changes in Medicare benefits to proposed laws governing the latest pharmaceutical research.

Susan Winkler, a national officer in the American Pharmacy Association, delivered the keynote address, titled "Becoming a Pharmacist: Getting Involved or Just Getting a Paycheck?"

The College of Pharmacy and Health Sciences Alumni Achievement Awards were given to Jay Langford, PH'44 and Tom Rickey, PH'68. Langford is a retired community pharmacy owner in Illinois who has made civic contributions in his community, provided the College with a major gift for classroom and laboratory renovation and belongs to Drake's President Circle.

Rickey owns Respiratory Care Pharmacy in Illinois, is an active member in the Illinois Pharmacy Association, runs an annual health clinic in Haiti and is a Drake's President's Circle member.

Pharmacy Day is organized and operated by students.