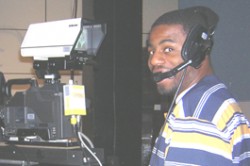 Shawn Rodgers operates a camera during auditions for anchor positions.
Drake University's TV news capstone "DRAKELINE WEEKLY" began its eighth season Feb. 2. The 15-minute program airs live at 4 p.m. Thursdays on The College Channel 16 in the Des Moines area, and replays at 5 and 7 p.m. It also live-streams to the Internet on www.Drakeline.com.

"DRAKELINE WEEKLY" is a professional activity for seniors majoring in radio-television and broadcast news in the School of Journalism and Mass Communication. The program gives students real-world experience in television reporting, production and promotion.