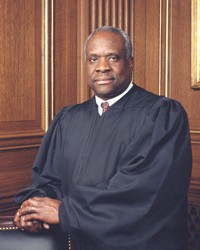 Justice Clarence Thomas
United States Supreme Court Justice Clarence Thomas spent the week of February 6-10 as distinguished jurist in residence at Drake Law School. He taught a Supreme Court Seminar, met with students and faculty informally and participated in a question-and-answer session with the entire Law School student body.

This is the second time Justice Thomas has served as a distinguished jurist in residence at Drake Law School. In 2002 he spent a week at Drake teaching a Supreme Court Seminar. Mark Kende, James Madison chair in constitutional law and director of the Constitutional Law Center, facilitated this year's seminar. Kende taught the first week of the seminar before Justice Thomas arrived.

Justice Thomas also participated in a class for RaySociety members on "What Would You Like to Know about the U.S. Judicial System."

Drake's distinguished jurist in residence is made possible by the support of one of Drake's most generous benefactors: Dwight D. Opperman, a 1951 Drake Law School graduate, chairman of Key Investments Inc. in Minneapolis and former president and CEO of West Publishing Co.