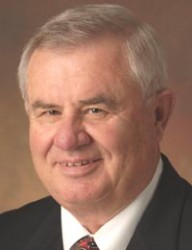 Jack Pester
A retired senior vice president with Coastal Corp. has rejoined the Drake University Board of Trustees as a trustee emeritus.

Jack Pester, a 1957 alumnus of the Drake College of Business and Public Administration, was first elected to the Drake governing board in May 1972 and served as chair from 1986 to 1988 before stepping down in April 2001.

Pester's return as trustee emeritus will give the governing board both a sense of history and bring another forward-thinking Drake booster into the University's leadership fold.

"We are all excited that Jack Pester is returning to the Board as a trustee emeritus," said President David Maxwell. "He brings invaluable knowledge of and insight into the governance of the University, and his vision and enthusiasm for Drake's future are most welcome as we move the University toward its future."

Pester, 70, lives with his wife, Barbara, in Houston, Texas.