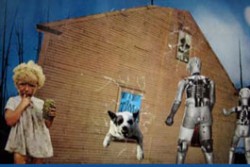 This collage, titled "Frightened Child," is on display as part of the "Trauma Reflected in Art" exhibition.
Through the most wrenching pain shines the light of hope.

That is the theme of "Trauma Reflected in Art," an art show of works and essays created by students at the Iowa Juvenile Home in Toledo, Iowa. The home is the state training school for delinquent girls and also serves some boys and girls who are victims of abuse and neglect.

"Some of the pieces show incredible pain and tragedy," said Kathy Fejes, professor of education. "Others are very hopeful and demonstrate resilience. The display haunts visitors, but they will walk out with a better understanding of the experiences of some of the young people in their state."

The show, which began in January, will be on display through March 3 Monday through Friday from 8:30 a.m. to 4:30 p.m. in room 214 of the Drake University School of Education.

The young artists – ranging in age from 14 to 17 – hail from all corners of Iowa and most have been identified as Children in Need of Assistance. Most qualify for special education with the most common disability being emotional and behavior disorders.

"Trauma Reflected in Art" is a display of 30 works produced through the juvenile home's therapeutic art program. Each work is accompanied by the artist's essay detailing emotions and events that impacted their lives and prompted creative expression.

The Drake School of Education, GeoLearning, and Alliant Energy are co-sponsors of the exhibition.