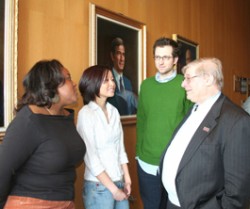 Michael Josephson, right, chats with law students Jennifer Beal, Hong Dao and Christian Walk.
The term "ethical lawyer" is not – repeat not – an oxymoron, insists Michael Josephson, a former lawyer, law professor and founder of CHARACTER COUNTS!, a system of teaching ethics employed at schools and workplaces across the country.

Josephson visited Des Moines and the Drake University Law School Jan. 26-27 to emphasize the importance of adding moral and ethical foundations to legal education.

The Drake Law School has partnered with the Institute for Character Development, which uses portions of CHARACTER COUNTS! ideals in giving first-year law students an introduction to ethics as part of their law school learning experience at Drake.

CHARACTER COUNTS! is a process of teaching, encouraging, advocating and modeling six universal ethical values, the Six Pillars of Character: trustworthiness, respect, responsibility, fairness, caring and citizenship.

Josephson said America's intensifying win-at-all-costs mentality is particularly harmful to the law profession because it only feeds the stereotype that lawyers will do whatever it takes, no matter how unethical or immoral, in the cause of personal gain.

"It has turned the law into something that is exploitive and oppressive, two things the law should never be," Josephson told about 150 Drake law students, faculty and staff. "People laugh at lawyer jokes because they believe lawyers will do whatever it takes – regardless of ethics or morality – to win. And that's not right."