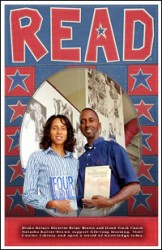 Natasha Kaiser Brown and Brian Brown pose with their favorite books.
In an effort to drive up reading for pleasure among students, Cowles Library has issued a series of posters showing Drake luminaries with their favorite books.

The posters feature:



Don Adams, 125th anniversary fellow: "The World is Flat" by Thomas L. Friedman.


Natasha Kaiser Brown, men's and women's track coach: "Four Blind Mice" by James Patterson; and her husband, Brian Brown, Drake Relays director: "The Inspirational Study Bible" by Max Lucado.


John Burney, dean of the College of Arts and Sciences: "The Proud Tower" by Barbara W. Tuchman.


Tom Davis, men's basketball coach: "Blink" by Malcolm Gladwell.


Wanda Everage, LA'72, vice provost for student affairs and academic excellence: "Black Feminist Thought" by Patricia Hill Collins.


President David Maxwell: "Crime and Punishment" by Fyodor Dostoyevsky (in original Russian, of course).


Drake First Lady Madeleine Maxwell, who couldn't pick just one book, instead narrowing her list to seven, including "Middlesex" by Jeffery Eugenides; "Gilead" by Marilynne Robinson; "The Artist as Critic" by Oscar Wilde; "History of Maine" by John Abbott; "The West: An Illustrated History" by Geoffrey C. Ward and "Herbs: A User's Guide and Identifier" by Andy Clevey.


Janet McMahill, FA'71, dean of the School of Education: "Locked Rooms" by Laurie R. King.


Provost Ron Troyer: "Democracy in America" by Alexis de Tocqueville.