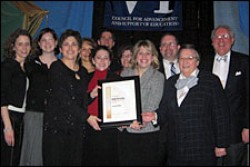 Institutional Advancement staff members pose with the Sweepstakes Award.
Drake University was named the Sweepstakes Winner at the Council for Advancement and Support of Education (CASE) District VI annual conference in St. Louis, Jan. 22-24.

Drake received the 2004-05 Sweepstakes Award for "Excellence in Educational Advancement." The award recognizes schools for innovation in communications in such areas as publications, special events, public relations, alumni relations and fundraising. Drake won eight awards in this year's competition.

The eight awards earned by Drake's Marketing and Communications office included a Grand Gold Award for "Excellence in Photography," two Gold Awards for "Excellence in Graphic Design" in support of Law School recruitment initiatives and for Opperman Lecture-related materials and three Silver Awards; three Silver Awards recognizing "Excellence in Overall Publications" for the Student Recruitment Series, "Excellence in Institutional Relations" for Drake blue cover wraps, and "Excellence in Graphic Design for a Single Logo" for the DRAKE 125 anniversary mark. Drake also garnered two Bronze Awards for "Excellence in Writing" in Drake blue and for "Excellence in Graphic Design" for the Drake blue/DRAKE 125 cover.

CASE is a professional organization for those in alumni relations, communications and philanthropy. CASE District VI comprises eight states and approximately 200 colleges and universities.

Also recognized at the event was Diane Anagnos Caldbeck, associate vice president for institutional advancement, who received the district's Distinguished Service Award for outstanding accomplishments during her tenure at Drake.

Caldbeck, ED'72, began her career at her Drake in 1989, moving quickly to the alumni director's position in 1991.

In 1998, Caldbeck assumed a larger managerial role in Drake's Office of Institutional Advancement during a transition period between vice presidents and was the office's primary leader for the next three years.

"There is no 9-5 in Diane's day," said John Amato, president of the Iowa College Foundation and a former Drake staffer. "As long as I have known her, she has always been the last one to leave the office at night. She has never shunned responsibility and knows what it takes to get the job done at a level to which she is accustomed."