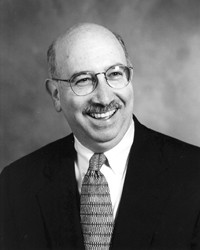 Jerry Karbeling, PH'74
During Pharmacy Day, the College of Pharmacy and Health Sciences also recognized the late Jerry Karbeling, PH'74, who died in 2005. Karbeling owned and operated Big Creek Pharmacy located in Polk City, Iowa.

Besides practicing pharmacy in his community, he was senior vice president for public affairs and corporate development for the Iowa Pharmacists Association. A Kappa Psi member, Karbeling was a professional leader, community advocate and staunch supporter of Drake and the College of Pharmacy and Health Sciences.

In memory of Jerry Karbeling, the Class of 1974 is establishing the Karbeling Memorial Leadership Fund. This leadership fund will establish an annual Karbeling award to be given to the student that most demonstrates the values and actions for which Karbeling was best known: professional involvement, commitment to practice and political advocacy.

The fund will also sponsor the Karbeling lecture as an annual event dedicated to promoting the pharmacy profession as vital to the health care system and a professional development program on political advocacy for pharmacists and student pharmacists.

More than $25,000 in pledges and gifts has already been received. If you wish to contribute to the Karbeling fund, contact the College of Pharmacy and Health Sciences at (515) 271-1814.