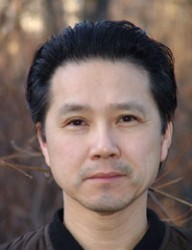 Phillip Chen
Drake University art professor Phillip Chen is one of 30 visual artists nationwide selected to receive a Louis Comfort Tiffany Foundation 2005 Biennial Competition Award of $20,000 based on their talent, promise and individual artistic strength.

Chen was among those chosen from nominees proposed by the foundation's trustees, previous recipients, artists, critics and museum professionals throughout the United States.

"Sizeable individual artist awards are truly scarce. Rarer still is that such an award be
given to a print artist," Chen said. "Though I draw regularly and have made series of paintings, I received the Tiffany Award for my prints, and my prints alone. In that 'highart' culture has traditionally categorized multiples as less desirable than quantitatively singular works that are solely possessed by the privileged individual, I
am most pleased that my primary creative medium, printmaking, has been amply acknowledged."

The Louis Comfort Tiffany Biennial Award comes without restrictions of any kind.

Chen said his wife, Lenore, and their children, Cora and Shaye, are luxuriating in the prospects of making a charitable contribution. "This will be a family decision," he said.