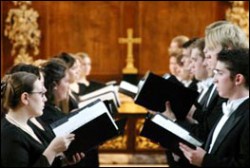 Students sing in London's St. James Piccadilly Church.
The Drake University Chamber Choir, conducted by Aimee Beckmann-Collier, toured England in January, performing in the cathedrals of Salisbury and Ely, at St. John's College Chapel at Cambridge University and at St. James Piccadilly and The Grosvenor Chapel in London.

Beckmann-Collier summed up the tour on one word – "Fabulous."

Eric Saylor, Drake's music historian, accompanied the choir on the tour. He was impressed with "the enthusiasm the students showed for the many different venues in which they performed and the excitement they felt in singing Renaissance music in churches that were in use during the Renaissance."

Photos of the tour and journal entries written by students are available on the Drake Web site at www.drake.edu/artsci/Music_Dept/england06/.