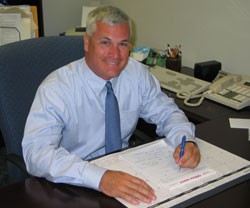 Dave Blank
Dave Blank, who has served as director of athletics at Drake University since 2000, has been named director of athletics at Elon University in Elon, N.C. Blank will begin his duties this spring, succeeding Alan White who retires in May after 35 years at Elon.

"I believe that Dave Blank is one of the best athletic directors in the country, so it is to be expected that other opportunities would come his way. As a friend and colleague, I'm sad that he's leaving Drake University, but we're fortunate to have had him as a member of the Drake family for 6 years," Drake President David Maxwell said.

"He will be leaving an indelible and much-valued imprint on the athletic program, and on the University," Dr. Maxwell added. "Dave has made immense strides in improving the overall integrity and excellence of athletics at Drake, in integrating the athletic program
into the fabric of the University as a whole, in hiring terrific coaches and staff and in generating external visibility, enthusiasm and support for the program."

Blank will remain at the University through the Drake Relays.

"I am very appreciative of the opportunity that David Maxwell and Drake University have provided me," said Blank. "It has been a tremendous six year period for me and for my family. Drake University is a very special place to us."

At Drake, Blank directed a 17-sport NCAA Division I athletics program that competes in the Missouri Valley Conference. He was responsible for the creation of a comprehensive academic assistance program and a new Life Skills program for student-athletes, encouraging participation in community activities and career development. During his tenure, Drake student-athletes have consistently posted a combined grade-point average of 3.0 or above.

Blank has overseen the addition of women's crew and women's soccer programs at Drake, and women's golf will become Drake's 18th varsity sport next fall.

Facility enhancements have been a priority during Blank's tenure at Drake, including upgrades in the softball complex, renovation of the strength and conditioning facilities and new locker rooms for several sports. He initiated a $22 million renovation of Drake Stadium, which hosts football, soccer and track and field.

A search committee has been formed to find the next director of athletics. Look in your next eBlue for details.