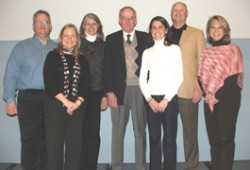 These Drake alumni presented at the Adams Academy seminar earlier this month. They are, from the left, Jim Martin, V.A. Hayman Barber, Mitch Kirsch, Don Adams, Kari Charlson, Russell Jensen, Kim White.
Drake alumni from all walks of life returned to their alma mater earlier this month to offer courses in leadership for students as part of the annual Donald V. Adams Leadership Institute Student Leadership Conference.

Speakers handled topics on a wide range of subject areas including teaching the next generation of leaders, defining leadership style for a global community, learning to manage change and networking.

Alumni speakers included Russell Jensen, GR'84, Victor Aspengren, GR'89, V.A. Hayman Barber, JO'99, Kim White. BA'91, Jim Martin, BA'79, GR'84, Diane Anagnos Caldbeck, ED'72, Michelle Kirsch, GR'85, and Kari Charlson, AS'02.

"The alums who took part just went out of their way to make this a valuable experience for the students," said Don Adams, 125th anniversary fellow and senior counsel for institutional advancement. "At the end of the day on Saturday, they were ecstatic after meeting these students who are so motivated, so fired-up and so interested in leadership."