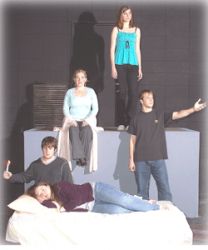 From left: Whitney Rhodes, Matt Roth, Liz Ward, Nick Trautner and Jessica Brandhorst play a variety of characters from some of Shakespeare's
most popular scenes.
Beginning Thursday, Feb. 23, the Drake University Theatre Arts Department will present "The Duo Shakespeare," an evening of scenes and sonnets.

"The Duo Shakespeare" features Shakespeare's sonnets paired with 10 different scenes from such plays as: "Hamlet," "The Taming of the Shrew" and "The Tempest." Each sonnet and scene offers a unique perspective on love — from the naive young passion of Romeo and Juliet to the destructive jealousy of Othello. The production contains adult themes not intended for younger children.

Michael Rothmayer, assistant professor of theatre arts, is the arranger and director of the production. Performances start at 8 p.m. Feb. 23, 24 and 25 and at 2 p.m. Sunday, Feb. 26, in Studio 55 in the Harmon Fine Arts Center, 25th Street and Carpenter Avenue.

Tickets are $5 for the general public, $3 for senior citizens and non-Drake students and $1 with a Drake ID. Reservations are recommended due to limited seating. For reservations, call the Drake Fine Arts Box Office at (515) 271-3841.