The Iowa Educational Research & Evaluation Association (IEREA) held their annual conference, Bridging Research and Practice to Meet Educational Challenges,  last month at the ACT Ferguson Conference Center in Iowa City.  This conference brings together practitioners, faculty and students from around the state to collaborate on innovative educational practices and to share current research.  The Drake University School of Education (SOE) doctoral program was well represented with presenters and attendees.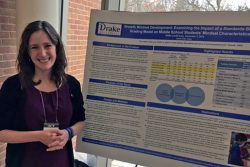 Doctoral student, Anne Franklin and Dr. Robyn Cooper, Director of the SOE Doctoral Program, won "Best Research Poster" Award for Quantitative Research entitled Motivation to Learn:  Exploring the Impact of Standards-Based Grading on Growth Mindset Characteristics in Middle School.  Megan Knight won "Best Research Poster" Award for Qualitative Research entitled One Reform Does Not Fix All:  Students' Perceptions of Standards Based Grading.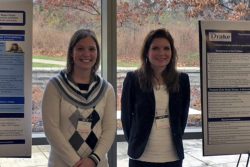 Darcie Whitlow and Robyn Cooper also presented a qualitative research poster - A Case Study Examination of the Inclusion Experiences for Adolescent Girls with Emotional-Behavioral Disorders.  Several doctoral students also led round table discussions.  Anne Franklin and Robyn Cooper led a discussion "Informing Practice and Policy:  Grading Model's Contributions to the Development of Growth Mindset Behaviors and Attributes in Middle School."  Megan Knight and Robyn Cooper also led a discussion "Best Practices for Managing the Classroom and Student Behavior in a Standards-Based Grading Model."  Jeffry Grassmeyer and Robyn Cooper presented "Measuring 21st Century Skills:  Discussion and Ideas for Best Practices."