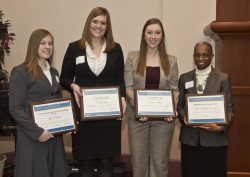 Student Leadership Award winners and CBPA Women's Impact Award recipient Vice Provost Wanda Everage
The Drake University College of Business and Public Administration (CBPA) hosted various female community leaders and students at the "Women's Leadership Breakfast" on March 2 at Old Main. Des Moines Police Chief Judy Bradshaw gave the keynote address, "Leading in a Man's World."
Madeline Maxwell introduced Bradshaw and presented her with a Drake football helmet, adorned with flowers. Bradshaw then shared her experiences from 32 years in the Des Moines Police Department. She acknowledged that she faced many challenges as a woman, but perseverance and passion for the job helped her overcome these obstacles. Bradshaw is considered a pioneer as the first woman in the Des Moines Police Department to serve as lieutenant, captain, major and finally chief of police.
The College also awarded the CBPA Women's Impact Award to Wanda Everage, vice provost for student affairs and academic excellence. Everage was recognized for her years of service to students and Drake alumni. She is retiring at the end of the spring semester.
Four CBPA female students were also recognized for their achievements and leadership in the College:

* First Year Leadership Award "" Julie Bolda

* Sophomore Leadership Award "" Ann Eithreim

* Junior Leadership Award "" Jessica Mattes

* Senior Leadership Award "" Carley Stieg