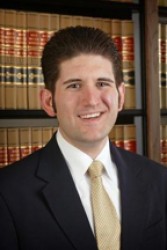 Nathan Watson, LW'04
Nathan Watson, LW'04, an attorney with McGill, Gotsdiner, Workman & Lepp, P.C., L.L.O. in Omaha, NE, was elected to the Council Bluffs City Council in that city's most recent election.
This was Watson's first run for public office and he finished with the second largest number of votes among the four candidates elected. Watson was the only non-incumbent to win a seat in the race.
"I was fortunate to have friends and family who worked hard for me," Watson told the Omaha World Herald after the election. "I ran on a message of greater participation, particularly in getting folks involved in the community, and I think that resonated with the people. I've gotten to know a lot of people and I'm humbled by their support, and I will try to do my best to earn the trust they have put on me."
Watson plans to open an office to meet with constituents on Saturday mornings twice a month.