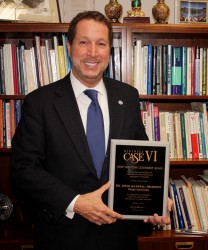 Drake President David Maxwell with his award for leadership.
Drake University President David Maxwell received the Chief Executive Leader Award for District VI from the Council for Advancement and Support of Education (CASE) at a conference held earlier this week in Kansas City, Mo.
CASE is a professional association that includes more than 3,400 colleges and universities, primary and secondary independent and international schools and nonprofit organizations in 59 countries. District VI encompasses eight Midwestern states and nearly 200 institutions of higher learning.
Maxwell is very deserving of the honor, according to Frances Bartlett Kinne, a member of Drake's Board of Trustees for 31 years and chancellor emeritus of Jacksonville University.
"Under the leadership of President Maxwell, Drake University is in an admirable position of vitality, stability, focus and energy -- perhaps unequaled in Drake's history," said Bartlett Kinne, who earned her bachelor's and graduate degrees from Drake in the 1940s.
Under Maxwell's leadership, the University has exceeded its enrollment goals, undertaken major capital improvement projects, won numerous accolades for academic excellence and produced more student and faculty Fulbright Scholars than 525 of 526 other master's universities in the United States. Additionally, Maxwell is a familiar face at campus events and he and his wife, Madeleine, routinely open their home to entertain, engage and listen to students.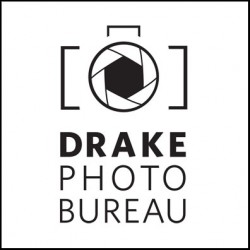 Drake's Marketing and Communications Department received a gold medal award in graphic design for the Drake Photo Bureau Logo.
The Drake Marketing and Communications Department was also honored for
their professional accomplishments at the conference, receiving numerous
awards recognizing several innovative public relations campaigns and
excellence in design and writing, including:

* The Alumni Events Award -- gold medal
* The Excellence in Graphic Design/Single Logo Award -- gold medal for the Drake Photo Bureau Logo
* The Excellence in Writing/Feature Story Award -- silver medal for "Beyond Black and White"
* The Excellence in Photography/Series of Photographs -- silver medal for "President's Greeting Cards"
* The Excellence in Alumni Special Events/Community Events --
silver medal for "Downtown Street Painting" and bronze medal for "Paint
the Town Blue"
* The Excellence in Educational Fundraising Award -- bronze medal