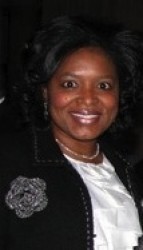 Romonda D. Belcher
Romonda D. Belcher, a 1995 graduate of Drake Law School, made history in September, when she became Iowa's first black female judge.
She's also renowned for bringing historic civil rights figures to life in one-woman performances in the Des Moines area.
On Saturday, Nov. 6, she will present her one-woman show interpreting the life of Iowa civil rights activist Edna Griffin, re-enacting Griffin's 1948 sit-in at the Katz drug store, which at that time served whites only in downtown Des Moines.
The performance, which is free and open to the public, will start at 11 a.m. at the Fort Des Moines Museum and Education Center, 75 East Army Post Road.
Belcher also portrays other civil rights heroes, including Des Moines community activist Evelyn Davis and Gertrude Rush, the first black woman to practice law in Iowa, as well as national historic figures such as Rosa Parks, Harriet Tubman and Sojourner Truth.
Read more about Belcher's theatrical background, her education at Howard University and Drake Law School, her 15 years as a prosecutor in the Polk County Attorney's Office and her new position as a Polk County district associate judge in Marc Hansen's Oct. 31 column in the Des Moines Register.
Hansen quotes former Drake Law School Dean David Walker about Belcher's success as a law student:
"Since her first days at Drake," Walker says now, "Romonda stood out in my mind as a hardworking, focused, really principled person who had backbone, courage and grace. She was very thoughtful with a nice sense of humor. Good around people, good on her feet. I knew from the get-go she wanted to be a judge someday, which isn't a few short steps from the commencement podium. . . ."