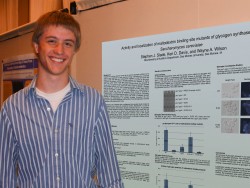 Slade, who has been working at Des Moines University, and his research findings.
Before the semester even begins, seven Drake undergraduates are working
on cutting edge research projects at scientific laboratories across the
country.
The students involved and their research sites are:

* Rachel Barkley, a chemistry and biochemistry, cell and molecular biology double major from Blair, Neb., and the recipient of a 2010-11 Goldwater Scholarship; the University of Iowa

* Kyle Denton, a junior chemistry and biochemistry, cell and
molecular biology double major from Shawnee, Kan.; the Stowers
Institute for Medical Research in Kansas City

* Ryan Johnson, a senior chemistry major from Des Moines; the University of Minnesota

* Ethan Kerzner, a senior mathematics and computer science
double major from Edina, Minn.; the University of Iowa U.S. Army
Research Laboratory

* Ethan Secor, a junior chemistry and physics double major from Stillwater, Minn.; the University of New Mexico

* Stephen Slade, a sophomore biology major with a neuroscience minor from Leon, Iowa; Des Moines University

* Nathan Verlinden of Manitowoc, Wisc., who is in his second year of the Professional Pharmacy Program; the University of Kansas Medical Center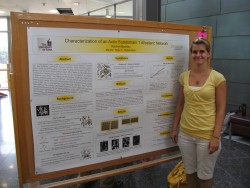 Barkley presents her work, which was conducted at the University of Iowa.
Slade said that his internship has provided him with an invaluable initiation into scientific innovation.
"I've loved my research experience because it's given me the thrill
of discovery and endowed me with a deeper appreciation for how science
is practiced," Slade said.
Denton agreed with Slade that laboratory skills learned at Drake easily transfer to professional research environments.
"I have learned a lot with this internship and it has really helped
me apply what I'd learned this past year in actual lab techniques,"
Denton said. "This has been a great opportunity for me -- it has given
me a good perspective on what careers and options are available in
research."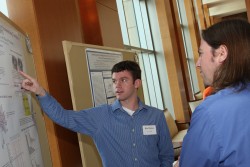 Denton explains his findings at the Stowers Institute for Medical Research in Kansas City.
Research experiences benefit students and their schools
Maria Bohorquez, professor of chemistry, said that undergraduate research prepares students to face the pressure and demands of graduate school while helping them gain confidence in their abilities.
"Students doing research at other universities are being challenged to learn, produce and perform at a graduate student level," said Bohorquez, who also serves as department chair. "They are expected to obtain publishable results, present their work using a national conference format and write their research findings in the format of a publication."
"Research projects challenge them, and their reward is not a grade -- it is the discovery of new knowledge," she said. "This benefits Drake because undergraduate research clearly has a positive impact on student learning. Engagement in research activities is considered to be one of the factors that define effective departments."