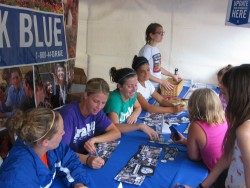 Athletes sign autographs for fans at the Drake tent.
Members of the Drake soccer, track and field and volleyball teams visited the Iowa State Fair Saturday on Drake Day.
Each team had athletes greet fans, sign autographs and get their pictures taken at the Drake Tent nestled along Rock Island Avenue at the State Fairgrounds.
For some student-athletes like Blair Nelson, a senior on the women's soccer team, it culminated a busy day but well worth the endeavor.
Just hours earlier Nelson played in the Bulldogs' 3-2 exhibition victory against Washburn.
"This is a great opportunity for our team to interact with people, while promoting our program," said Nelson, a native of Southlake, Texas. "Our team likes getting out to community events."
Second-year Drake head volleyball coach Phil McDaniel echoed Nelson's sentiments
"Events where we can get out into the Des Moines community and meet the people of Des Moines are always a fantastic experience for our players," said McDaniel. "We enjoy the interaction and the opportunity to talk to people about the academic and athletic experiences we are a part of here at Drake."
"Our student-athletes and staff have an opportunity to give back to the community through various projects both on and off campus," added Drake women's soccer coach Lindsey Horner. "These experiences have allowed our student-athletes to broaden their perspective, interact with the Des Moines community and gain invaluable life experiences that can't be replicated in the classroom or on the field."