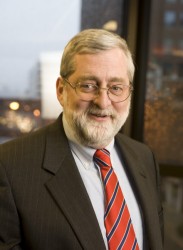 I hope you enjoy this edition of eLaw. In it you will find a number of articles that reflect the energy and innovation that are so much a part of the Law School.
Whether it is a distinguished graduate being named by President Obama to a key State Department position, the increasing involvement of the Law School in China, or the growing strength of the Law School in the area of intellectual property, the articles address new areas of strength.
You will also find articles about our continued excellence in traditional areas of strength. The selection of Professor Laurie Doré to receive the University's highest award for teaching, and Professor David McCord to receive the Governor's Volunteer Award for his work with refugees, reflect our commitment to teaching and community service.
The articles on errors in eyewitness identifications and the Supreme Court's consideration of a case heard at the Legal Clinic speak to our history of teaching innovation.
The article on the upcoming Constitution Day celebration points to our work on community education, and the articles on the land tenure project and the minor emancipation bill relate to our special involvement in this region.
Finally, the participation of Professor Hunter Clark in the Thurgood Marshall ceremony reflects the tradition of scholarship so central to our history.
As you can see from this edition of eLaw, this is a school full of interesting people doing exciting things. I trust you are as pleased as I am to be a part of it.
--Dean Allan W. Vestal