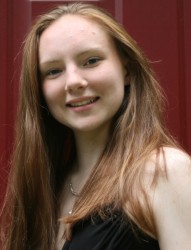 Kendra Kennedy
Kendra Kennedy of Millis, Mass., has received the inaugural Lawrence K. Fish Scholarship to attend Drake.

"I am truly honored to be provided with such a great opportunity," said Kennedy, who recently graduated from Millis High School and will begin taking Drake classes this fall as an actuarial science major.
The full-ride scholarship is available to entering first-year students at Drake who are interested in studying business or journalism. Eligible students must be a resident of Massachusetts, New Hampshire or Rhode Island and maintain a GPA of 3.5 or above while at Drake. The award covers tuition, room and board and an annual stipend, bringing the total value to $150,000 over four years.
The scholarship, endowed by 1966 Drake graduate and Boston resident Lawrence K. Fish, gives students like Kennedy a reason to consider a move to the Midwest.
Later this summer, Kennedy will travel more than 1,000 miles from home to come to Drake, but she says the transition will be smooth, thanks to the University's intimate atmosphere.
"The move will be easier because of the close-knit feeling I experienced when visiting campus and interacting with students, faculty and administrators," said Kennedy, the daughter of David and Jeannette Kennedy. "I am excited for the new adventures and great opportunities that lie ahead."
More about the Fish Scholarship
The Lawrence K. Fish Scholarship was established in 2006 by Lawrence K. Fish, chairman and CEO of Citizens Financial Group, to commemorate his 15-year anniversary there.
"The time I spent at Drake prepared me to move forward in life with confidence," said Fish. "For some time now, I have been considering how to express my gratitude to my alma mater."
"I'm doing this in order to provide a young person with an opportunity to attend this wonderful college with the luxury of being able to dedicate themselves fully to their education and time away at school, without financial worry," Fish said. "We are living in unprecedented financial times. I believe an opportunity like this will give students an opportunity that they would otherwise not have."