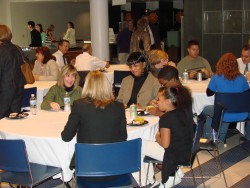 On October 2, SOE students, faculty and staff gathered with members of
the SOE International Advisory Board for the third annual SOE BBQ.
The event was held in the Olmsted Student Center and was funded by
a generous donation from Karen Goodenow, Drake Trustee and SOE Advisory
Board member.
Everyone feasted on barbecue beef sandwiches, potato salad and corn
on the cob while they created important networking connections with the
Advisory Board members, who include two area superintendents,
curriculum directors, AEA administrators, and other prominent
professionals in the field.