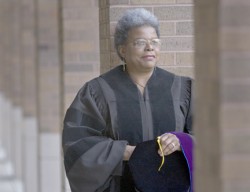 Deborah Turner
An intense desire to earn a law degree on top of her medical degree led Dr. Deborah A. Turner to squeeze in classes at Drake University Law School between her office hours and surgery schedule.
"I've always been interested in the law," said Turner, a gynecologic oncologist with Mercy Surgical Affiliates. "The more I got into my medical career and some of the extracurricular things I've been involved with, the more I saw that the law -- how it works and how it affects or lives -- is really important."
Turner came to Drake in 2000 through the Law School's Career Opportunity Program for part-time students. She finished her last class in December, then waited to celebrate the accomplishment by participating in the Law School's Commencement Ceremony on Saturday, May 17.
Even for a part-time student -- no less a student with as many demands on her time as Turner -- seven years is a long time to finish a law degree. But there were unusual circumstances that delayed her graduation.
Her younger sister, her best friend and supporter, Darlene Hill, died in 2004, and Turner took time off from Law School to handle additional family responsibilities.
She had meshed her medical practice with law classes for more than four years. During that time she also served as a member and president pro tem of the Iowa Board of Regents.
"At that point I wasn't sure I would ever finish law school," Turner said. "It was such a long haul, and, after a two-year hiatus, I wasn't sure I wanted to go back."
Yet she knew Darlene would have wanted her to complete her degree. "The idea for me to go to law school and get my degree was a dream of hers too," Turner said.
"I did this for myself, but I also did it for my sister. Finishing is a special thing."
Associate Dean Russ Lovell was one of the administrators and professors who urged Turner to return to the classroom.
"We didn't want to lose her because of outside misfortunes," Lovell recalled. "We talked with her about the special contributions she could make as a doctor-lawyer. There aren't many of those folks around. We also worked with her to find courses that would fit her demanding schedule."