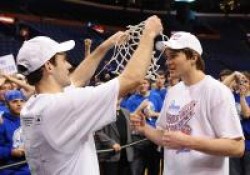 Adam Emmenecker (left) presents teammate Klayton Korver with net.
ST. LOUIS, MO. -- No. 20 Drake punched its ticket to the school's first NCAA Tournament appearance since 1971 with a convincing 79-49 victory past Illinois State in the championship of the State Farm Missouri Valley Conference Tournament Sunday at the Scottrade Center.
The Bulldogs, who won their fourth straight game, improved their record to 28-4 and will await word on March 16 where the NCAA Basketball Tournament Committee will send them.
The 30-point margin of victory is the largest ever in an MVC Tournament championship game. The win also tied for the widest margin of victory in any MVC Tournament game, matching a 107-77 quarterfinal round victory by Wichita State against Southern Illinois in 1984.
Drake junior forward Jonathan Cox scored a game-high 20 points, including 12 in the first half to help break the game open.
Senior guard Adam Emmenecker added 16 points and six assists, while senior forward Klayton Korver scored 10 for the Bulldogs.
Drake became the first No. 1 seed to win the State Farm Missouri Valley Conference Tournament since 1998.
"Obviously, it's an understatement to say I'm proud of this team, what they've been able to accomplish not only in the regular season, but after doing that to come down here to St. Louis and win on three consecutive days," said first-year Drake coach Keno Davis.
Clinging to an 18-17 lead, Drake used a 22-2 run to close out the first half.
Freshman reserve guard Josh Parker started the flurry with a three-point basket and a jumper. Cox had seven points in the surge.
Drake reeled off 19 straight points, hitting nine of 13 shots in the spree.
Meanwhile, Drake's defense, which had been a key factor throughout the tournament, held Illinois State without a basket for 6 minutes 31 seconds.
"We got to a stretch where the shots were going down and they weren't for Illinois State," Davis added. "Obviously, we were playing very well on the defensive end, but the momentum really caught up with us."
Drake's 40-19 halftime lead was larger than the halftime advantages in each of the past four championship games combined, a total of 18 points.
The Bulldogs shot a sizzling 58.3 percent from the floor in the second half and finished the game hitting a season-high 55.6 percent from the field (30-54).
A three-point basket by reserve forward Bill Eaddy gave Drake its biggest lead of the game at 79-46 with 45 seconds left.
Drake had opened the game, making just one of its first seven shots from the floor. Then the Bulldogs caught fire, shooting 65 percent (15-23) to close out the half.
Drake also had four steals and converted seven first-half turnovers by the Redbirds into a 9-0 advantage in points off turnovers.
After the bench contributed just two points in a semifinal win against Creighton, Parker, Jacob Baryenbruch and Brent Heemskerk combined for 10 points off the bench in the first half.
Drake made 10 three-point baskets and finished the tournament with 28 treys which was the second highest ever in the MVC Tournament.
Cox grabbed a game-high seven rebounds for Drake, which outrebounded Illinois State, 34-22.
"Our team, as we've been able to win all year, it just has made us get a taste of wanting more, and to be able to cut down the nets back in Des Moines at the Knapp Center," Davis added. "We came in here saying, 'Hey, we'd like another chance to cut down some nets,' and we got that opportunity. Our guys deserve a ton of the credit for how focused they were throughout this whole weekend."