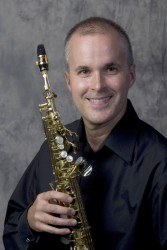 James Romain
CONTACT: Lisa Lacher, 515-271-3119, lisa.lacher@drake.edu
James Romain, assistant professor of saxophone at Drake University, will present a faculty recital at 8 p.m. Thursday, Jan. 31, on the Jordan Stage of Sheslow Auditorium in Old Main, 2507 University Ave. The performance is free and open to the public.
Romain will be joined Nicholas Roth, Drake assistant professor of piano. The two musicians, who have collaborated on a number of occasions, will perform the Sonata in C Sharp by Fernande Decrück, Steve Reich's minimalist classic "New York Counterpoint," the "Hot-Sonate" of Erwin Schulhoff and "Buku" for alto saxophone and boombox by Jacob Ter Veldhuis.
Decrück wrote the Decrück Sonata in C Sharp (1942) for her husband, Maurice Decrück, who was the saxophonist with the New York Philharmonic. It was also dedicated to Marcel Mule, then the newly appointed professor of saxophone at the Paris Conservatoire. Elements of romanticism and impressionism combine to create a mood of mysterious intensity.
"New York Counterpoint" (1985) was originally written for solo clarinet with 10 pre-recorded clarinet and bass clarinet parts. The version for saxophone, approved by the composer and created by saxophonist Susan Fancher, is for solo soprano saxophone and 11 pre-recorded soprano, alto, tenor and baritone saxophone parts.
Schulhoff's "Hot-Sonate" (Jazz-Sonate) reflects the composer's interest in American music, and jazz in particular. The work was premiered as part of the "Berliner Funkstunde" radio program in 1930 by American jazz saxophonist Billy Barton with Schulhoff at the piano. The period following World War I gave rise to a vibrant and varied artistic climate with currents of socialism, jazz, cabaret and Dadaism combining in a wide array of ways.
The saxophonist Arno Bornkamp, who has recorded the "Hot-Sonate," writes, "In 1937, the Nazi regime organized an exhibition of Entartete Kunst, after which the same art was banned outright. The same thing happened with the 1938 Entartete Musik exhibition, the poster for which showed a black man playing the saxophone. In this way, the saxophone was branded as degenerate." Schulhoff, of Jewish origin, died in a concentration camp in 1942.
"Buku" (2006) is the most recent piece in a series of important "boombox" works by Ter Veldhuis, a Dutch composer. He said the title refers to a remark by Charlie Parker about Dizzy Gillespie in an interview, "'I don't remember precisely, I just know that he was playing what you might call in the vernacular of the streets a 'Buku' horn.'
"So far all of my boombox pieces are speech-based," Ter Veldhuis added. "But 'Buku' is based mainly on very short musical sound bites: just a hit, a roll or a lick, from numerous jazz performances: moments of great energy and beauty. 'Buku' is about the soul of the alto saxophone and is also a tribute to three alto giants: Charlie Parker, Cannonball Adderley and Art Pepper. Meet them in 'Buku!'"