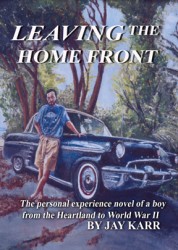 Jay Karr's book, "Leaving the Home Front"
Jay Karr, JO'50, author of "Leaving the Home Front," will appear at a book signing and reading from 2 to 4 p.m. Sunday, Aug. 12, at Borders Books, 4100 University Ave., West Des Moines. In addition to his appearance in West Des Moines, Karr will be at the Adel Museum from 1 to 3 p.m. Saturday, Aug. 11, at the Corn Festival in Adel, Iowa.
At Borders, Karr plans to read two sample passages from his book about World War II and answer questions. Karr said the novel features protagonist Miles Morgan's relationship with the Kinnick brothers in Adel, Iowa, including the future Heisman Award winning All American, Nile Kinnick. "The first reading passage will show the 10-year-old Miles waking up to war in his future. The second passage describes his parachute jump in the assault to retake Corregidor eight years later," Karr said.
Karr said the book is a novel, but much of the book is taken from his own personal experience. Since Karr and Kinnick share the same hometown, the novel is available at the Adel Museum and has sold to about 5 percent of the population of Adel in less than a year.
While at Drake, Karr majored in art, English and journalism, wrote a column in the Times-Delphic, and was also a member of the S.A.E. fraternity. After Drake, Karr worked as an editor for Better Homes and Gardens magazine and received a Master of Fine Arts degree at the University of Iowa Writers Workshop. Karr taught writing, literature and journalism at Humboldt State University in California. He returned to the Midwest and finished his teaching career at Westminster College and now resides in Fulton, Mo.