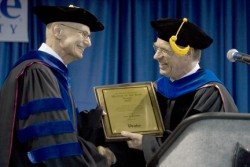 Provost Ron Troyer, right, congratulates Lon Larson, PH'71.
Larson becomes first two-time recipient of Drake's top mentorship award
Drake has awarded its highest mentorship award, the 2007 Madelyn M. Levitt Mentor of the Year Award, to Lon Larson, PH'71, the Ellis and Nelle Levitt professor of pharmacy administration. Larson also received the award in 1997, making him the only faculty member to have received the award twice.
"I'm extremely grateful and honored even to be considered for this award," Larson said. "Winning it a second time is just as exciting as the first, if not more so. It's a different set of students -- almost a different era -- and it's nice to know that I'm still viewed as a good mentor."
Larson was honored for his excellence as a mentor at Drake's Undergraduate and Graduate Commencement Ceremonies Saturday, May 12, where he served as University marshal and master of ceremonies.
"The relationships I have with students are really what make my job special," Larson said. "I think that I learn from every student. It's not that either of us will necessarily give out new facts, but when a faculty member helps a student with a problem -- be it whether or not to attend graduate school, or help with a research project -- both parties gain insight and become more knowledgeable."
Whether he's providing logical, calculated advice about internship options or just sharing a smile in the hallway, Larson is a consistent source of support for students. "Dr. Larson is one of the most amazing emotional caregivers I've ever met," Courtney Jahnke, a fifth-year pharmacy student, wrote in a nomination letter. "He is a spiritual leader, and the passion of his career and the spirit of who he is are not two separate things. The impressions he has left on me are deep and life-changing."
Larson's long history of dedicated mentorship at Drake is reflected both in the University's consistent recognition of his service and in his students' undergraduate and post-graduate success. He received Drake's Pharmacy Mentor of the Year award in 2005. In 2004 he was faculty adviser to a team of students who took first place at the AMCP "Pharmacy and Therapeutics Committee" competition. In 1996 and 1997 he was a faculty mentor to students who applied for the Searle Fellowships in Pharmacy. Joshua Benner placed first and Renee Ahrens placed second, respectively.
This year, students have shown an outpouring of support for Larson after he was diagnosed last fall with a rare, aggressive type of cancer called mantle cell lymphoma. He's received baked goods, home visits and other encouraging gifts. Pharmacy honor society Rho Chi conducted a bone marrow registry drive in his honor. The drive prompted 124 members of the campus community to get their cheeks swabbed to join the national registry.
Several teams also participated in Drake's Relay for Life, a cancer fundraising walk, in his honor. Students wore T-shirts with Larson's picture on the front and, on the back, the words, "In pursuit of survival we walk with and stand for our professor, our mentor and our friend, Dr. Lon Larson."
"It's a wonderful feeling to know that people view me in that light," Larson said. "The student reaction has been overwhelming and I have so much respect for what the students do, and I'm honored that they would do that for me. This has all been very heartwarming."
Larson said his cancer appears to be in remission following chemotherapy and a stem cell transplant. "I'm just very thankful to be here today to be able to participate in the ceremonies," he added. "Graduation is one of my favorite events."