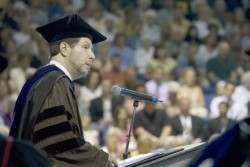 Drake University welcomed a total of more than 1,300 students into the ranks of alumni this past weekend during three ceremonies marking the commencement rites of passage.
At the University's 126th Undergraduate Commencement Ceremony on May 12, Drake President David Maxwell told the graduates that he wants them to think about events, people and forces that are shaping our world – and shaping our future. "And more than that," he said, "I want you to think about what you're going to do about them." Dr. Maxwell's commencement addresses are posted here:
Following President Maxwell's address, Drake leaders presented an honorary Doctor of Humane Letters degree to renowned author and retired Meredith Corp. executive James Autry. He is regarded as one of the most successful and respected magazine publishing executives in the nation. He also is an award-winning author whose collection of essays and poetry, "Love and Profit: The Art of Caring Leadership," won the prestigious Johnson Smith and Knisley Award in 1992 and has been published in a multitude of languages.
"Let me just share a few thoughts about life and about the quest for professional success, however we define that," Autry told the 650 graduates and their families and friends. "It strikes me that a few things get lost in this great quest. In our obsession with what's next, we often fail to focus on what's now. If I've learned anything, it is that everything counts -- everything. Every experience, every activity, every relationship, even the things you don't think count, count. There are lessons in them all. The great challenge is to pay attention and to realize that what you're doing right now is the most important thing you can be doing.



"It took awhile, but I finally learned to put together experiences from every job I've ever had -- from copy boy to jet fighter pilot to senior executive to author -- to try to distinguish the connections between them, to discern the patterns they form, to understand the lessons they teach. It seems to me to be enormously important that we realize the cumulative nature of our experiences and turn it to our understanding. And it seems equally important to me that we realize it doesn't make a whit of difference how much we know about our profession or our business if we do not understand that human relationships are at the heart of them all and that we have to focus on those relationships. Well, that's the end of my sermon."



Autry also talked about the University's vital role in the Des Moines community and his experiences on campus as an instructor, lecturer and committee member. "I've had many positive experiences with Drake, but this, this honorary degree is something else all together -- completely unexpected," he said. "And I affirm to all of you here, it is truly one of the great honors of my life -- a treasure, a blessing. And I will be forever grateful. Thank you."