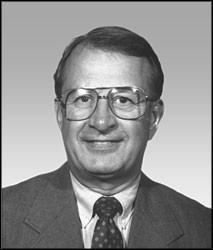 Herb Strentz
Herb Strentz, professor emeritus of journalism, recently received the 2006 Central Iowa Activist Award in the First Amendment category for his commitment to openness in government and his leadership role at the Freedom of Information Council. The Des Moines Business Record honored Strentz for his relentless dedication to the council and his continued promotion of openness in government meetings and laws - sometimes called "sunshine laws."

Strentz was one of the journalists, educators and attorneys who met 30 years ago to discuss the creation of a forum for openness in government and First Amendment rights. After the Freedom of Information Council's formal incorporation in 1977, Strentz served as the organization's executive secretary until his retirement in 2000. For almost 25 years Strentz organized and conducted training for journalists, attorneys and librarians, produced educational materials, and manned an FOI hotline.

Strentz was inducted into the Open Government Hall of Fame in 2003 and is also the only person to have received the Distinguished Service Award from the Iowa Newspaper Association and Iowa Broadcasters Hall of Fame recognition.