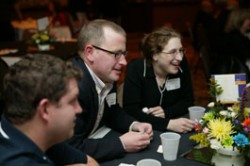 Larry James, Class of 2001, and his wife, Jennifer James, enjoy the Law School All-Class reunion during the Drake Relays this spring.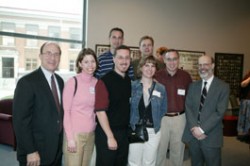 Alumni, faculty and staff gather during the Drake Law School's open house during Drake Relays weekend. Shown are, front row left to right, Drake Law School Dean David Walker, Amy McBeth, Dan and Stephanie Rubinstein, both LW'96, Dan McPherson, LW'96, John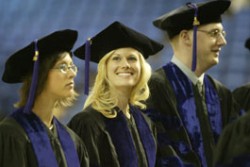 As the moment to cross the stage approached, this newly minted Drake Law School alumna Carolyn Nicolas couldn't help but smile. She's flanked by classmates Meredith Nevem and Kyle Orris.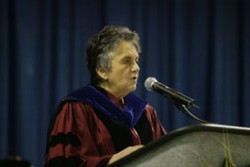 Wisconsin Supreme Court Chief Justice Shirley S. Abrahamson delivers the keynote address to the Drake Law School Class of 2006.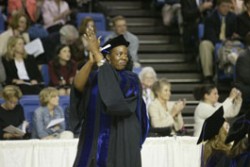 Diploma in hand, new Drake Law School alumna Geneva Williams applauds both her and her classmates' accomplishments.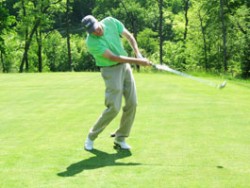 Graduate Noreen Bush is hugged by siblings Brenda Poelman, Brian Bush and Ed Bush after the ceremony.