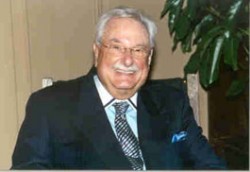 Dwight Opperman
Dwight Opperman, a 1951 Drake Law alumnus, has donated $3 million to further endow the Opperman Scholar program. The fund awards five or more merit-based, full-tuition scholarships for outstanding first-year students, and the scholarships are renewable.
In addition, the program provides an annual grant of $10,000 to each Opperman Scholar to help pay for books and living expenses while attending Drake Law School. The $3 million gift fully endows the annual grants.
The gifts bolster the Drake Law School's efforts to build its regional and national profile. Drake President David Maxwell and Walker recently announced the University's commitment to ensuring that within five years the Drake Law School will be recognized as one of the best law schools in the Midwest.
"Everyone at the Law School and the University, and certainly our Opperman Scholars," Walker said, "is grateful to Dwight Opperman for his enormous and sustained generosity. He has not just helped us to attract outstanding students but has enriched the University and provided an extraordinary legacy to the profession."