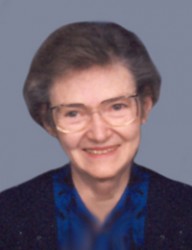 Dr. Mary Sparks Hostetter
Dr. Mary Sparks Hostetter, the doctor who led the Drake Student Health Center in the 1970s through the early 1990s, died Friday, Feb. 17, at Iowa Methodist Medical Center. She was 85.

Dr. Hostetter, of West Des Moines, was one of three physicians who helped Drake partner with American Republic and upgrade the University's health care offerings to students during the 1970s. She was named director of the Health Center in 1970, and served until 1991.

"She loved students and always took the time to listen to them," said Don Adams, 125th anniversary fellow, who met Dr. Hostetter when he arrived on campus in 1969 as vice president for student life. "She was a very caring woman who did a wonderful job for our students. She was a superb person."