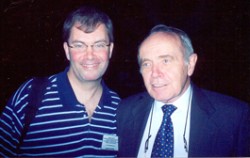 Mark Kende poses with Johann Kriegler, recently retired justice of the Constitutional Court of South Africa.
For a constitutional scholar such as Mark Kende, his January visit to the University of KwaZulu Natal in Durban, South Africa, was "kind of the big buffet at the international restaurant."

At the conference, titled "Comparative Constitutionalism and Rights: Global Perspectives," Kende, the James Madison chair of Constitutional Law, met fellow academics, sociologists, political scientists, lawyers and judges from all over the world to discuss constitutional law issues.

Kende also presented a paper on "The South African Constitutional Court's Cases on Religion."

"The range of perspectives was amazing," the law professor said. "It is always valuable to be able to look at issues that we face in the United States from different points of view. We have a tendency to get locked into our particular point of view and not see other solutions that are working well elsewhere in the world."