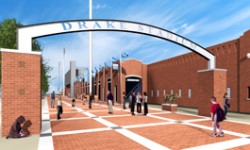 An artist's rendering of what the plaza outside Drake Stadium will look like upon completion.
A trio of contributions to Drake University totaling $2 million will cap off the $15-million revitalization of Drake Stadium.

Drake President David Maxwell recently announced the University has received two $500,000 gifts and a $1 million state grant.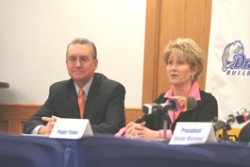 Peggy Fisher, FA'70, left, and her husband, Larry Stelter, speak with members of the Des Moines news media about their $500,000 contribution to the Drake Stadium revitalization project.
Peggy Fisher and her husband, Larry Stelter, donated $500,000 to construct a plaza and archway on 28th Street immediately west of the stadium and north of Forest Avenue.

The plaza will create an open, beautifully landscaped red brick walkway area with an arched entry serving as the front door to the grand sports facility that has been home to the Drake Relays since 1926. The arch is scheduled for completion by Relays, although the walkway construction will be postponed until summer to avoid interfering with pedestrian traffic during the event.

Fisher and Stelter, who own and operate The Stelter Co. in Urbandale, Iowa, said the plaza project was a perfect fit for them because they want the stadium to have a majestic entrance.

"It seemed natural for me because I'm a Drake graduate and Drake has always had a special place in my heart," Fisher said. "My husband, who is an Iowa grad and an avid Hawkeye fan, has been wonderful and has embraced Drake wholeheartedly, even rooting for Drake when we play Iowa in basketball. He was the first one to say 'Yes' when we were asked to make this contribution. I didn't even have to talk him into it."

"We feel fortunate to be able to make this gift," Stelter said. "The plaza will finish off the entrance to the stadium so nicely and be a real asset for Drake and Des Moines."

This is the second major gift Fisher and Stelter have made to Drake. In 2003 they gave $100,000 to fund the Quad Creek landscaping project.

A second $500,000 gift from a Drake alumnus who prefers not to be identified at this time, will fund a new building already taking shape in the northwest corner of the stadium. The two-story facility, to be completed by this year's Relays, will house restrooms, concession areas and two locker rooms for visiting athletes, including the Des Moines Roosevelt High School football team. Roosevelt, which does not have its own football stadium, will begin playing home football games at Drake Stadium this fall.

Finally, a Community Attraction and Tourism grant for $1 million from Vision Iowa will aid in the completion of various aspects of the stadium revitalization.

"The Vision Iowa Board is proud to support the renovation of Drake Stadium, home of the premier track and field event in the country," said Vision Iowa Chairman Andy Anderson. "In addition to being one of the nation's greatest sporting events, the Drake Relays is a powerful economic tool that brings people from all around the world to Iowa."

The stadium rejuvenation project, which began last May, is on schedule to be completed by the Drake Relays (April 27-29). A new track, which meets international competition standards, was installed along with a FieldTurf artificial infield that will accommodate both football and soccer. The project includes new seating throughout the stadium as well as a new scoreboard, lighting for evening sports events and major renovations to the press box area.

"This wonderful project is the consequence of a collaborative effort-the hard work and generosity of many people. " Maxwell said. "Our alumni, the greater Des Moines community, the state of Iowa and the international track and field community have all come together to make this happen. With the Relays at the core, Drake University and Des Moines are poised to become the track and field capital of the Midwest, hosting regional, national and international events, and bringing visibility, people and resources to our community. We are very, very grateful to all of our partners who have made the revitalized Drake Stadium a reality."