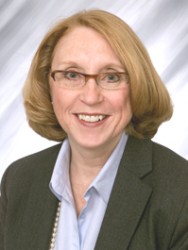 Vicky Payseur
The Drake Board of Trustees recently honored Vicky Payseur, vice president for business and finance, for her stewardship of the University's budget - which ended the 2004-05 fiscal year with a surplus for the first time in more than a decade.

The trustees presented Payseur, GR'82, with a proclamation detailing Payseur's accomplishment as vice president, including moving the University from an operating deficit to a surplus and reducing endowment spending while also improving Drake facilities.

"Ms. Payseur has built a culture of fiscal discipline, conservative planning and shared accountability … (and) has exhibited great creativity, responsibility and wisdom in maximizing the effectiveness of resources to move the University forward," said the proclamation signed by both President David Maxwell and David Miles, LA'79, GR'81, chair of the Board of Trustees. "Since joining Drake in 1997, Ms. Payseur has worked tirelessly for the good of the University, has provided consistent leadership, has grown to be a trusted adviser to President Maxwell, this Board of Trustees and has become a beloved member of our institution."