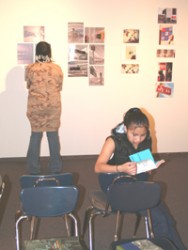 Hoover High School students examine publications and works at the Anderson Gallery.
A total of about 250 art students from four public high schools in Des Moines toured the "Doubletake" graphic design exhibition at the Anderson Gallery and explored Drake's art studios in January, thanks to a $10,000 grant awarded to the Drake School of Fine Arts by Prairie Meadows Racetrack and Casino. The grant pays for buses to bring high school students to campus to experience the fine arts at Drake this spring and next fall.

"Seeing this type of exhibit allows people to be creative and get ideas," said Aaron Waseskuk, a sophomore at Hoover High School. "It allows people to get an idea of what art really is."

" Going to galleries like this expands your mind and your interests," added Jake Pyle, a senior at Hoover. "If you want to take your art further, then you can expand your views of art on a trip like this."